Definición de Pagare
Palabra: Pagare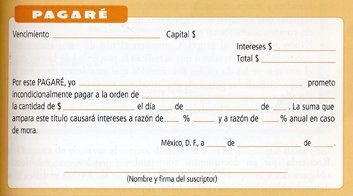 Definición:
A promissory note is a legal instrument (more particularly, a financial instrument), in which one party (the maker or issuer) promises in writing to pay a determinate sum of money to the other (the payee), either at a fixed or determinable future time or on demand of the payee, under specific terms. If the promissory note is unconditional and readily salable, it is called a negotiable instrument.[1] Referred to as a note payable in accounting (as distinguished from accounts payable), or commonly as just a "note", it is internationally defined by the Convention providing a uniform law for bills of exchange and promissory notes, although regional variations exist. Bank note is frequently referred to as a promissory note: a promissory note made by a bank and payable to bearer on demand. Mortgage notes are another prominent example. The terms of a note usually include the principal amount, the interest rate if any, the parties, the date, the terms of repayment (which could include interest) and the maturity date. Sometimes, provisions are included concerning the payee's rights in the event of a default, which may include foreclosure of the maker's assets. Demand promissory notes are notes that do not carry a specific maturity date, but are due on demand of the lender. Usually the lender will only give the borrower a few days' notice before the payment is due. For loans between individuals, writing and signing a promissory note are often instrumental for tax and record keeping. A promissory note alone is typically unsecured,[2] but these may be used in combination with security agreements such as mortgage, in which case they are called mortgage notes.
Otra definición de Pagare:
Definición: Written, signed, unconditional, and unsecured promise by one party (the maker or promisor) to another (the payee or promisee) that commits the maker to pay a specified sum on demand, or on a fixed or a determinable date. Promissory notes (such as bank or currency notes) are negotiable instruments.
Búsqueda personalizada